Also Available On AMAZON.COM
Special Amazon Price: $59.99 RENOGY RS232 - https://www.amazon.com/SnekTek-Dashboard-SD-RS232-REN-INT-Renogy-Controllers/dp/B0BPRJR5VS
RENOGY ELITE RS485 - [AMAZON COMING SOON] - Available here
Special Amazon Price: $59.99 EPEVER RS485 - https://www.amazon.com/SnekTek-Dashboard-SD-RS485-EPE-INT-Epsolar-Controllers/dp/B0BPRP4PGZ
VICTRON VE.Direct - [AMAZON COMING SOON] - Available here
Check out the Live Demo of a Real Solar Dashboard!

Use the login details below:
>> Real Solar Dashboard Live Cloud Connected Demo <<
Username: demo@snektek.com
Password: password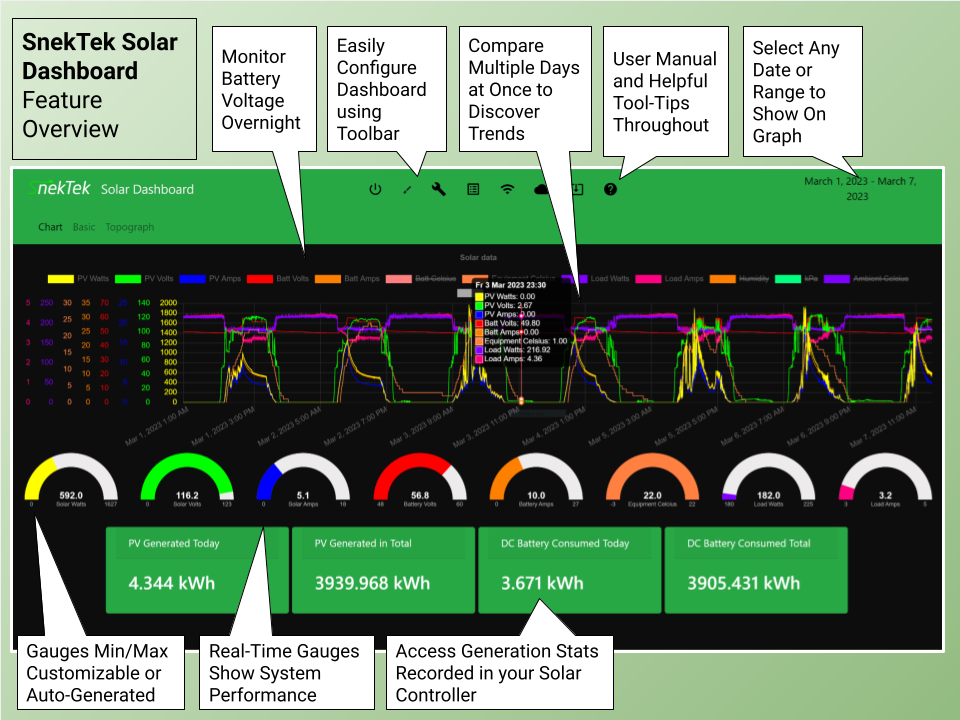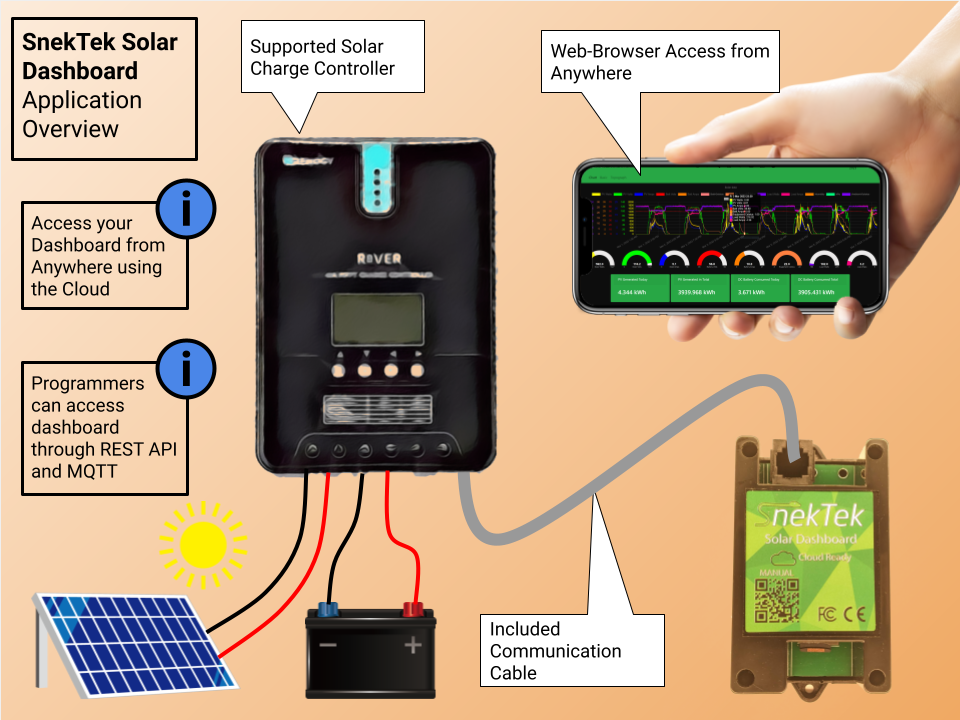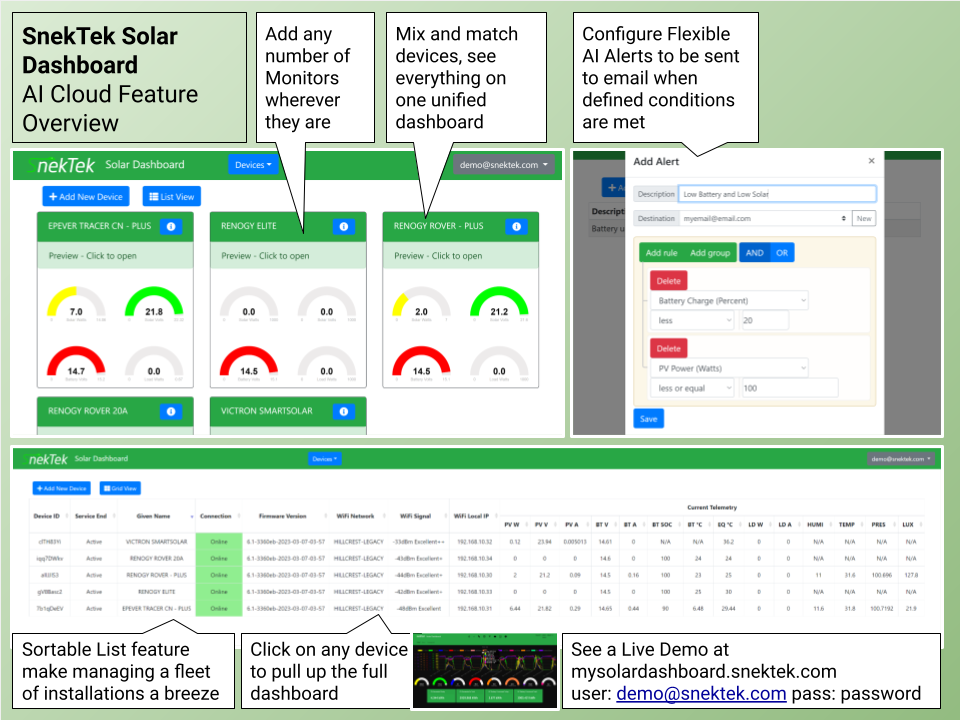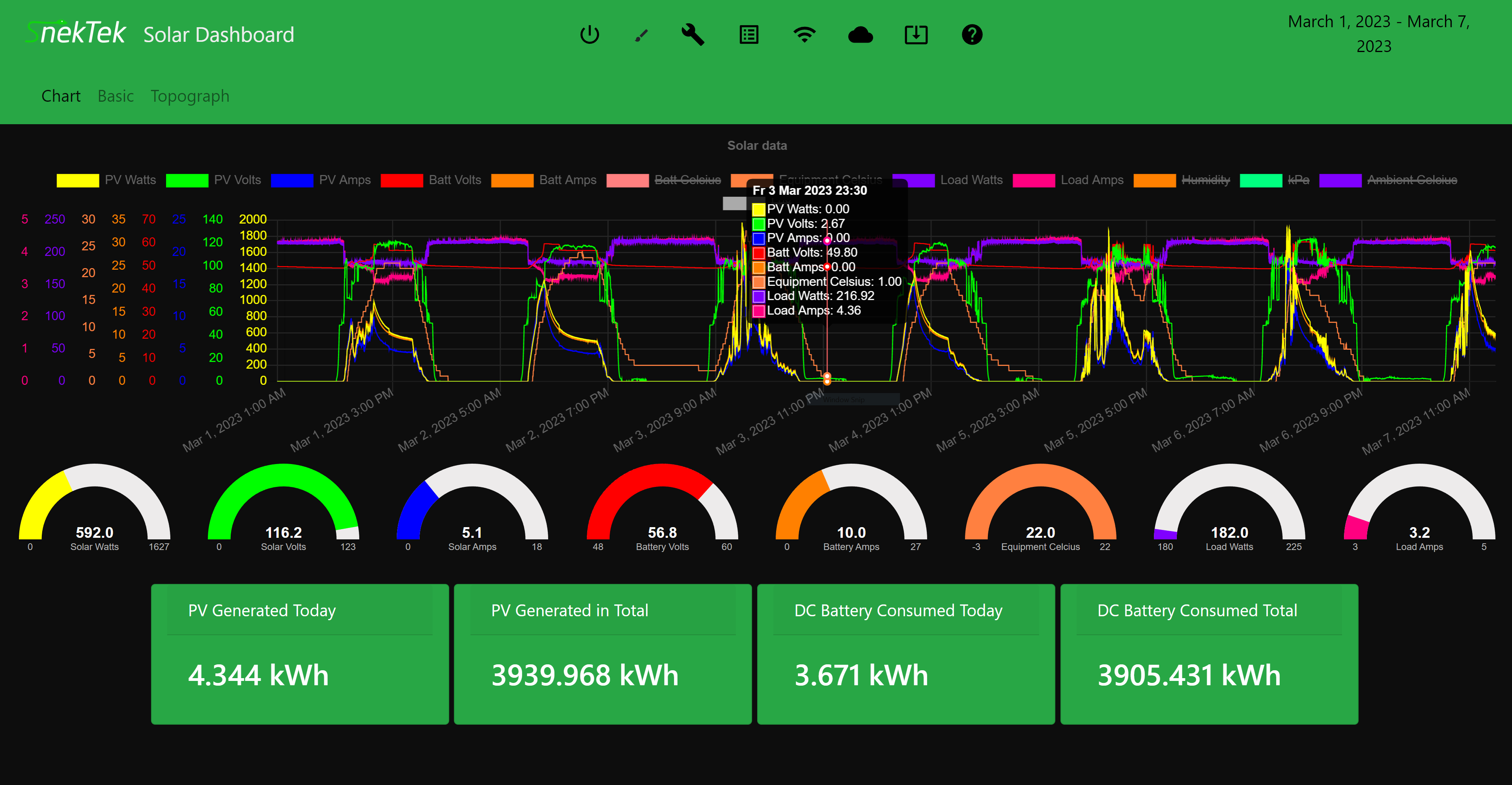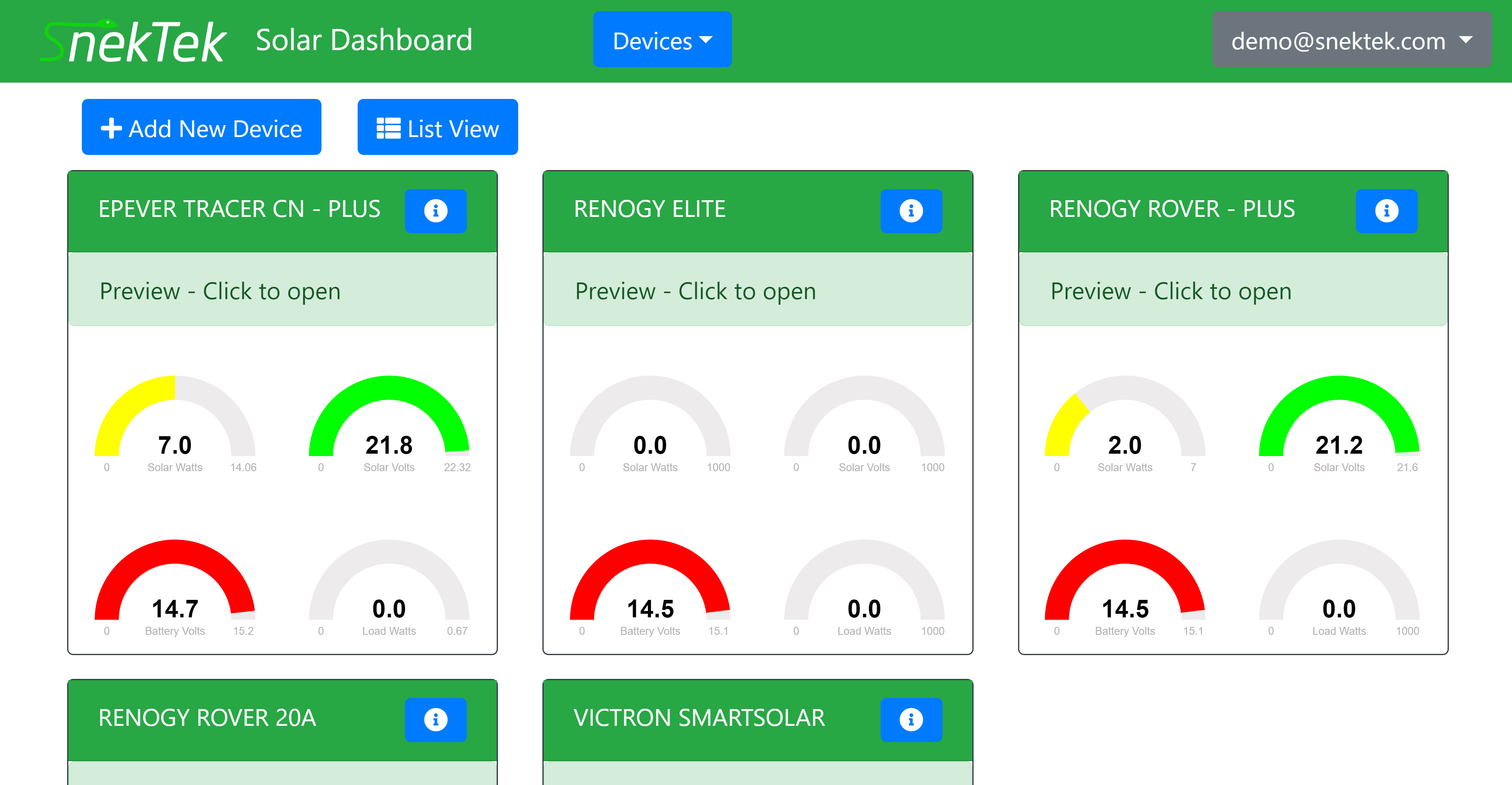 Make sure to Subscribe to the online Monitoring Service for easy Remote Monitoring!
Get it here: https://mysolardashboard.snektek.com/
- Compatible with VICTRON

- VICTRON SMARTSOLAR MPPT series
- VICTRON BLUESOLAR MPPT series
- Other VICTRON with VE.Direct Port
- Compatible with RENOGY / RENOGY ELITE

- RENOGY WANDERER series
- RENOGY ROVER series
- Other RENOGY with RS232 Port
- RENOGY ELITE SERIES with RS485 Port

- Compatible with EPEVER / EPSOLAR
- TRACER AN series
- Tracer BN series
- Tracer CN series
- TRIRON series (with COM port)
- XTRA series
- All types with COM RS485 Port (looks like Ethernet plug)
- Compatible with SIGINEER HYBRID INVERTERS

- SIGINEER M3000H series
- SIGINEER M6000L series
- SIGINEER M5000H series

- SIGINEER M120000L series

- Unlimited History - SD card logging and viewing! Logs data every minute to SD card for virtually unlimited history. Recall the charts for any day/month/year using the web interface
- Offline/Online Timekeeping Technology - Unit sets automatically and keeps accurate time whether or not internet is available! Works off grid and on grid.
- New improved Interface - Charts automatically scale to your solar installation. Formatting improved, chart zoom, and more.
- Remote Monitoring Service - Subscribe to remote monitoring to get online access to your dashboard from anywhere, 24/7
- Easy Software Updates - Keep your device up to date with optional automatic software updates or 1 click updating
- Cloud API Access - Build Custom Solutions to Monitor your system. More information at https://mysolardashboard.snektek.com/api/
- AI Alerts (Cloud) - Set up custom parameters and be notified via email when things go wrong.
- Load information - Showing load stats like Power and Current
- Extended insights (Plus Model) - Device contains 4 extra sensors: Relative Humidity, Temperature, Atmospheric Pressure, Lux.
Description:
This unit allows you to serve a WEB Dashboard displaying real-time and historical statistics and charts about your solar energy production.
It can connect to your existing WiFi network and you can access it by typing the IP address into your address bar in your browser.
Or it can be used stand-alone as it broadcasts it's own WiFi access point. The dashboard website is totally offline, meaning it is hosted on the unit itself, completely self contained.
For remote access, consider the cloud subscription.
Great for Off-Grid cottages, Recreational Vehicles, and More!
This device acts as a gateway between solar charge controllers and the Local Area Network (LAN). When connected to the internet, it allows remote data access through SnekTek Cloud service or MQTT data protocol.
Regardless of internet connection status, the device will query the connected solar installation every second and log the relevant statistics on a per minute basis in accessible JSON format to the included SD card.
These data files can be accessed through the device's Access Point, LAN, or Cloud Service. MQTT is real time data only. A REST API is available on the device to aid in developing custom applications.
External antenna connection option is available on all models for increased range.
Compatible with most EPEVER, RENOGY AND VICTRON MPPT CONTROLLERS
Included:
- Solar Dashboard Device
- SD Card 32GB
- Connecting Cable
- Quick-start Guide
- 1 Free Year Cloud Subscription
Downloads:
User Manual SnekTek Solar Dashboard
Customers all over the world.
Map shows some of the regions with Solar Dashboard Users.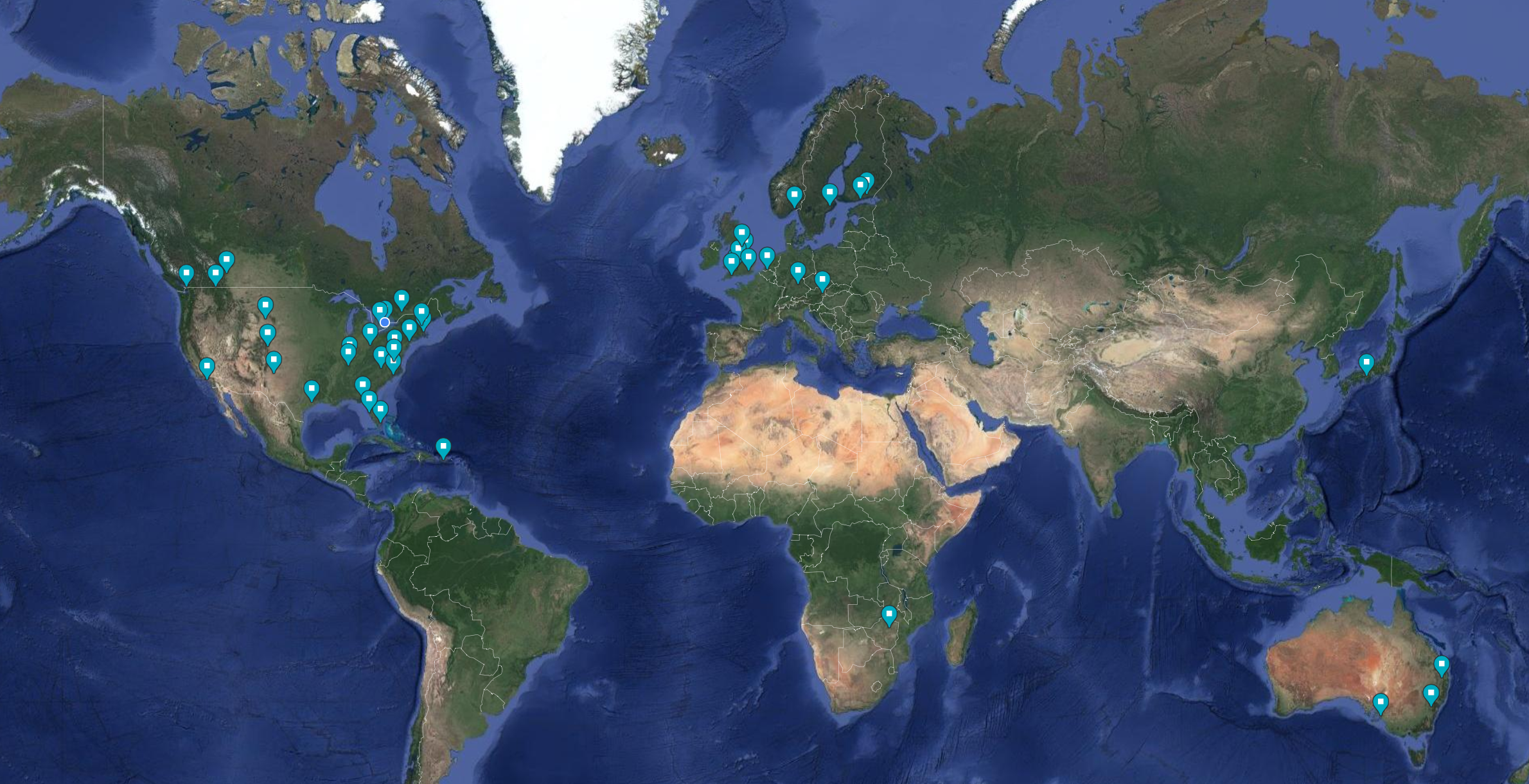 More information: https://www.snektek.com/forum/viewtopic.php?f=3&t=48
Solar Dashboard EPEVER RENOGY VICTRON SIGINEER
Brands SnekTek Inc
Product Code: SD-RSxxx-xxx-xxx
Availability: In Stock
Related Products
Tags: EPSOLAR, EPEVER, SOLAR, RENOGY, dashboard, WiFi, RS485, RS232